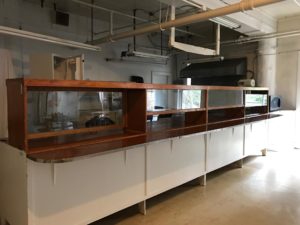 Little D Before...



Progress



Little D After


The restoration of Little D (Little Diner– a former staff cafeteria) – to become a community, meeting space and classroom,  the first of  the 4 phases of the full historic restoration of this National Historic Landmark Lodge is nearly complete.  Once the full restoration of the Chateau is complete - the appliances will be installed and the handicap accessible restroom and ramp will also be completed.
Since 2014, we have been researching and raising funds to support the creation of a Community Room.   The good news is that with the upgrades, the kitchen will serve as a back up to the main kitchen, can be used for culinary training, educational opportunities, meetings and retreats, and will increase the Chateau's season by allowing meetings to be held even when the Chateau is closed.From 1938 to 1978 - the private Concessioner - the Oregon Caves Company hired 60 college students each summer to give the Cave Tours, help cook the meals, serve as waitresses and housekeepers.  The 40 women stayed in the upper two floors of the Chalet - Visitor Center and the 20 men stayed in the Guide Shack - which is now closed for restoration. The students were not allowed to be in the Chateau unless they were working there - so Little D' was their gathering place as well.  Since 1978, when the NPS took over giving the Cave Tours - Little D has sat empty. The Friends are excited to bring back this piece of history to this remarkable National Historic Landmark Lodge.  Along with a commercial kitchen and an ADA accessible restroom, Little D will have elevator access once the full restoration is complete and will also retain an outside entrance and thanks to the Oregon Legislature - will also have a balcony.
Additionally, we are planning to re-create the three balconies original to the Chateau – with support from the Oregon Legislature - as a part of the Cultural Advocacy Coalition - Capital Construction program.    The funding and completion of these two efforts will kick off the Capital Campaign recently approved by our Board of Directors to raise $4.5 million to complete the historic restoration of the 23 guest rooms, the collection of iconic Monterey Furniture original to the Chateau, the lobby and public areas, and the dining rooms.
This $4.5M in funding is being raised to leverage the $8 million National Park Service Life Safety Project which will complete electrical, plumbing, and infrastructure improvements to make the Chateau ADA-accessible. That  project is due to begin in October 2018 and be completed during the 2019 season when the Chateau will be closed to guests.
Collaborators and Funding:   The Meyer Memorial Trust, Braemar Trust,  National Trust for Historic Preservation, the ESCO Foundation, Travel Oregon,  the Oregon Heritage Commission,  The Four Way Foundation, Restore Oregon, The Ford Family Foundation, the Woodworkers Guild of Oregon, and  Private Donors campaign.
[satellite gallery=1 thumbs=on]
Read more here: http://thepreserveoregonblog.blogspot.com/2017/07/oregon-caves-chateau-littte-d-gets.html